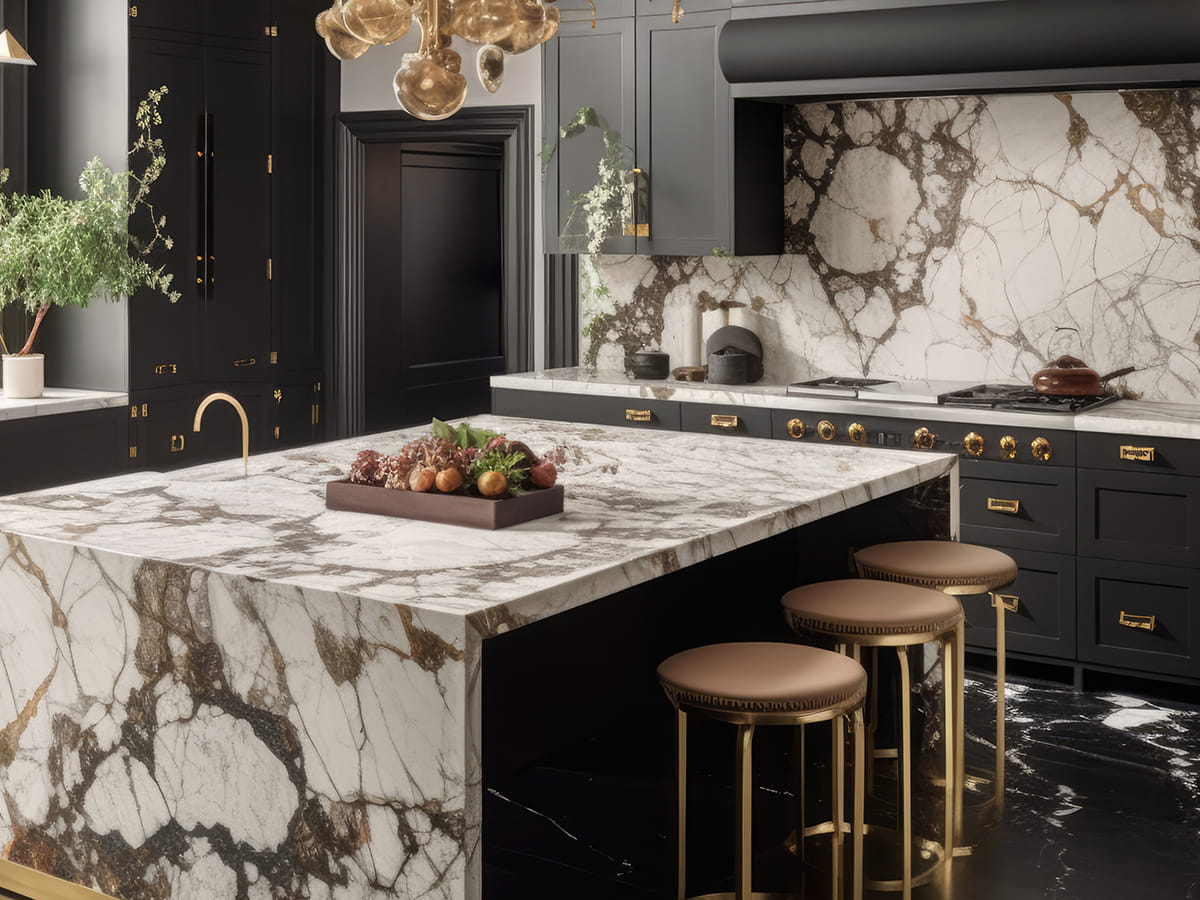 New Jersey's Granite Store
The Natural Stone Choice for Artistic Elegance
Granite is a natural stone composed of naturally occurring minerals such as quartz, feldspar, mica and hornblende. Granite is extracted from quarries worldwide and then cut into various shapes and sizes. As is the case with all natural stones, granite is porous and needs to be sealed to protect it from staining.
Granite is ideal because it's available in a wide range of hues and patterns, offering a diverse selection of veined and speckled granite in various colors. Not only is it aesthetically pleasing, but natural granite stone is a more cost-effective option when compared to other materials used for countertops. Granite won't become scorched from hot pots or scratched when used as a food-cutting surface.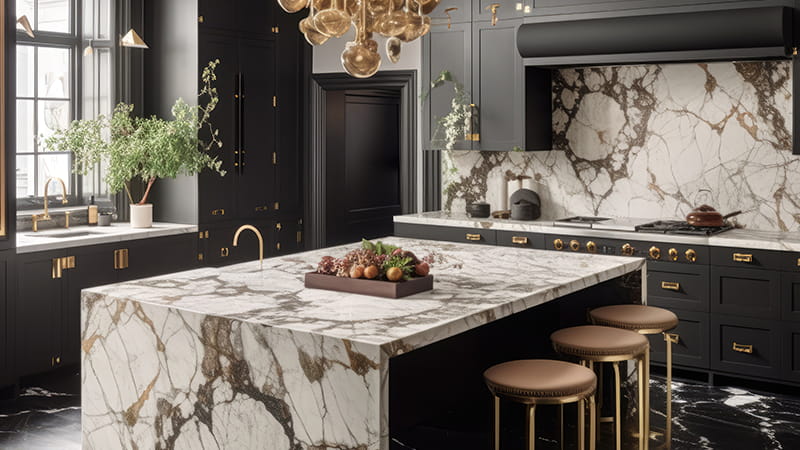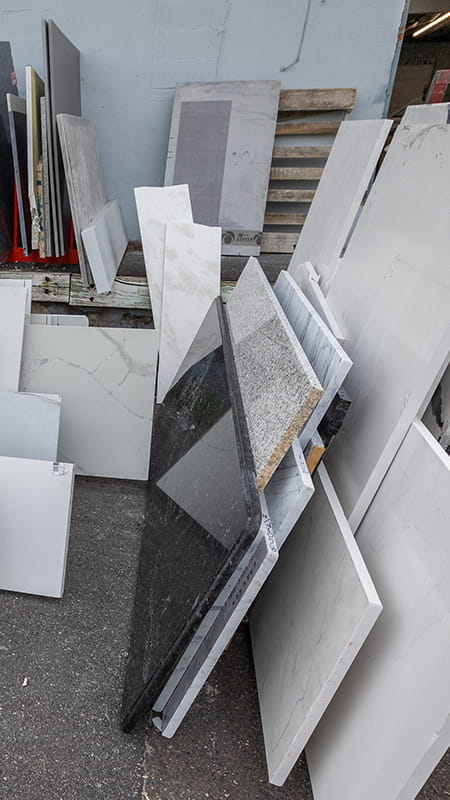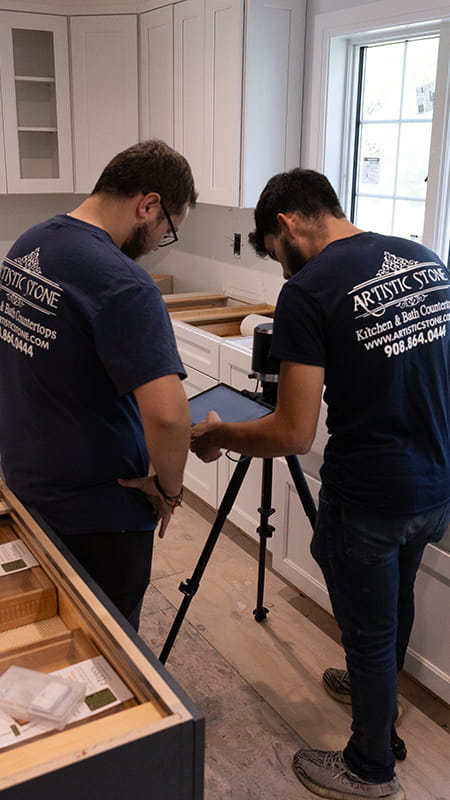 Uses for Granite
From colorful granite kitchen countertops, custom granite bathroom countertops, and countertop backsplashes to modern stone fireplace surrounds and granite tv walls, Artistic Stone is the granite fabricator and installer to depend on to bring your vision to life!
Products
Granite island tops and granite bar tops
Granite stone countertops
Granite countertop backsplashes
Granite slab wall
Granite bathroom countertops/vanity tops
Granite shower walls and wall panels
Outdoor granite countertops
Granite fireplace surrounds
Granite jacuzzi surrounds
Granite TV walls Granite Fabricators, Installers, and Consultants (Showroom)
At Artistic Stone, we pride ourselves on providing our New Jersey customers with top-notch granite services. With a spectrum of available granite colors and granite countertop edge options ranging from eased edge granite, quarter round edge, quarter bevel edge, rounded granite edge, ogee and double ogee edges, miter cut edge, and more, we know choosing can be difficult. That's why we leverage our expertise to help you with granite selection and choosing the perfect granite countertop edge style for your project. You're welcome to visit our clean and organized granite showroom to see granite color and edge style samples and discuss your needs and preferences with our knowledgeable staff. We have an outstanding reputation for accurate measurement and countertop templating, precise granite cutting, fabrication, and finishing edges of granite countertops, and perfect granite installation. Regardless of the size and scope of your project, Artistic Stone's team of granite experts is dedicated to providing you with top-notch, consultative customer service.
Our experienced sales staff can consult with you to understand your style preferences, answer any questions about the types of stone that best suit your lifestyle, and show you stone and countertop edge samples. We're here to guide you through selecting the most appropriate color and type of stone to ensure your complete satisfaction with the final product.
At Artistic Stone, our detail-oriented stone artisans have the expertise and experience to measure and template your space, providing a precise and accurate countertop template. To ensure the measurements are perfect, our team uses state-of-the-art equipment so you can be confident you'll receive a top-quality finished product.
Our stone fabricators pair excellent customer service with unparalleled stone-cutting craftsmanship to create kitchen countertops, countertop backsplashes, bathroom vanity countertops, outdoor kitchen countertops, stone fireplace surrounds, jacuzzi surrounds, shower walls, stone TV walls, and more. When you want top-notch countertop fabrication, turn to the experienced team from Artistic Stone!
Our professional countertop installers understand how to properly install natural, engineered, and porcelain countertops that look fantastic and function perfectly. Artistic Stone completes each countertop installation project quickly and precisely, making your experience hassle-free.
Granite Supplier Products
Discover the timeless elegance of granite by exploring our extensive collection. Sourced from the world's finest quarries, our granite will fit any design and budget. Whether you're browsing online or visiting our Union County showroom, experience the unparalleled quality of our granite countertops firsthand, and make a statement in your space.
Micro Diamond/ Blanco Fino Areas We Serve
New Jersey homeowners and contractors turn to Artistic Stone for top-quality granite countertops. We proudly serve all of New Jersey, including the following neighborhoods:
Alpine
Bernardsville
Cherry Hill
Edison
Far Hills
Franklin Lakes
Hoboken
Mendham
Newark
Paramus
Parsippany-Troy Hills
Princeton
Rumson
Saddle River
Tenafly
Toms River
Trenton
Upper Saddle River
Woodbridge
Woodcliff Lake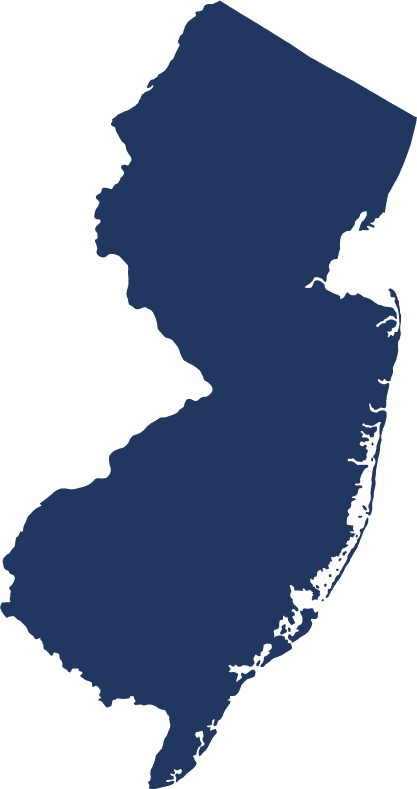 The Process: 5 Easy Steps
1. Granite Selection:
Call or visit us in person at our granite showroom. Our experienced team will help you choose the most appropriate type of granite for your project needs and preferences. If you visit the granite showroom, you can choose your granite slab from our selection. Alternatively, we will send photos so you can pick what color granite you want remotely. You may also visit one of our suppliers and select a granite slab yourself.
2. Granite Cost Estimate:
Bring to our granite showroom or email us rough measurements and pictures of the space for which you need granite countertops installed and a room layout. If you're in the showroom, we'll provide an on-the-spot granite countertop estimate, including materials and installation. Alternatively, we can email the estimate to you.
3. Measurement and Templating:
Once you approve the estimate and pay a deposit, one of our expert fabricators will come to your location to take field measurements and create a template for your custom granite project.
4. Granite Countertop Manufacturing:
Our custom granite fabrication service takes four to six business days.
5. Granite Installation
Artistic Stone will perform granite countertop installation on a day that's convenient for you. It's important for you to arrange with a plumber to have all plumbing related to the job disconnected before your granite installation appointment and then reconnected afterward.
All that's left to do is enjoy your new granite countertop!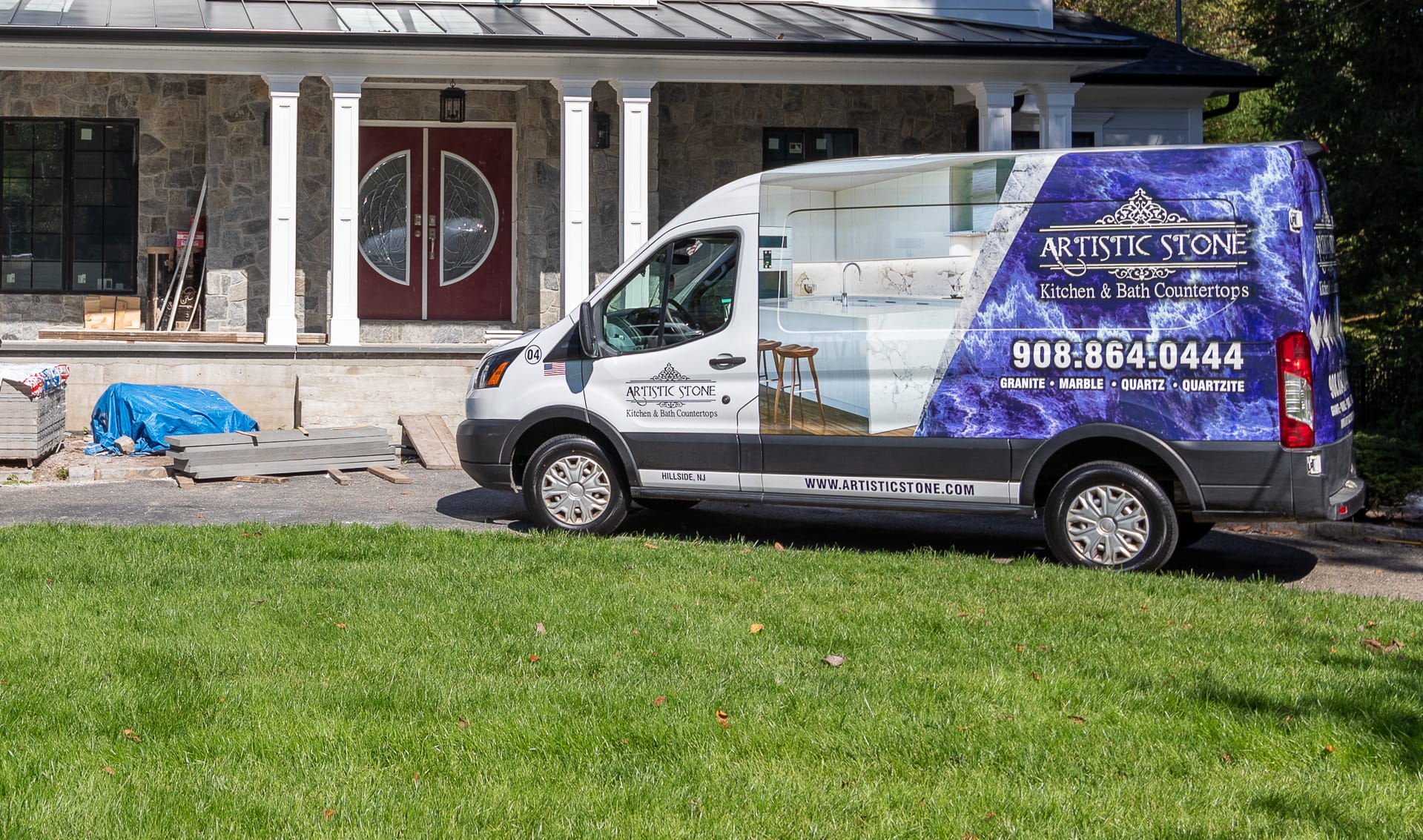 Looking for the Granite Countertop of Your Dreams?
Transforming Stone into Statement: What Story Will Yours Tell?
We understand the importance of having a beautiful space, and Artistic Stone can help you transform yours into something extraordinary with custom granite countertops and other granite features. Contact us today to get inspired, and let us bring your dream space to life!
Contact Artistic Stone Today!