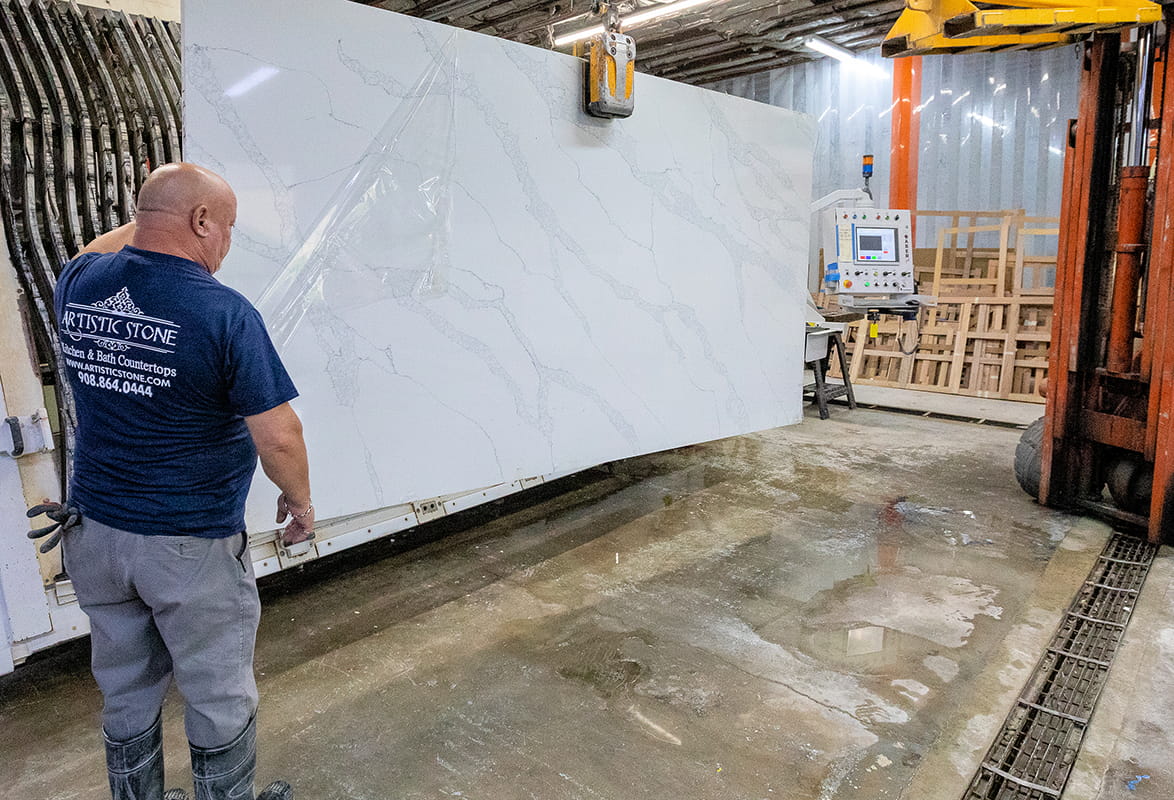 Experience the Artistic Stone Difference
NJ's Countertop Fabricators and Installers
At Artistic Stone, we believe that every countertop should be a showpiece. As the premier kitchen countertop fabricators and installers in New Jersey, our reputation for excellence precedes us. We specialize in creating custom kitchen countertops and other stone solutions that elevate any home. New Jersey homeowners depend on Artistic Stone to bring their visions to life by creating stunning countertops that will be the centerpiece of any space.
Quality Craftsmanship
Our commitment to customer satisfaction and quality manufacturing distinguishes us from other countertop contractors. From helping you select the most appropriate stone for your project to providing precise countertop installation, we strive to make your experience with us seamless and stress-free. We know that choosing the perfect natural or engineered stone and edging for your project can be overwhelming, so we're here to guide you through the entire process.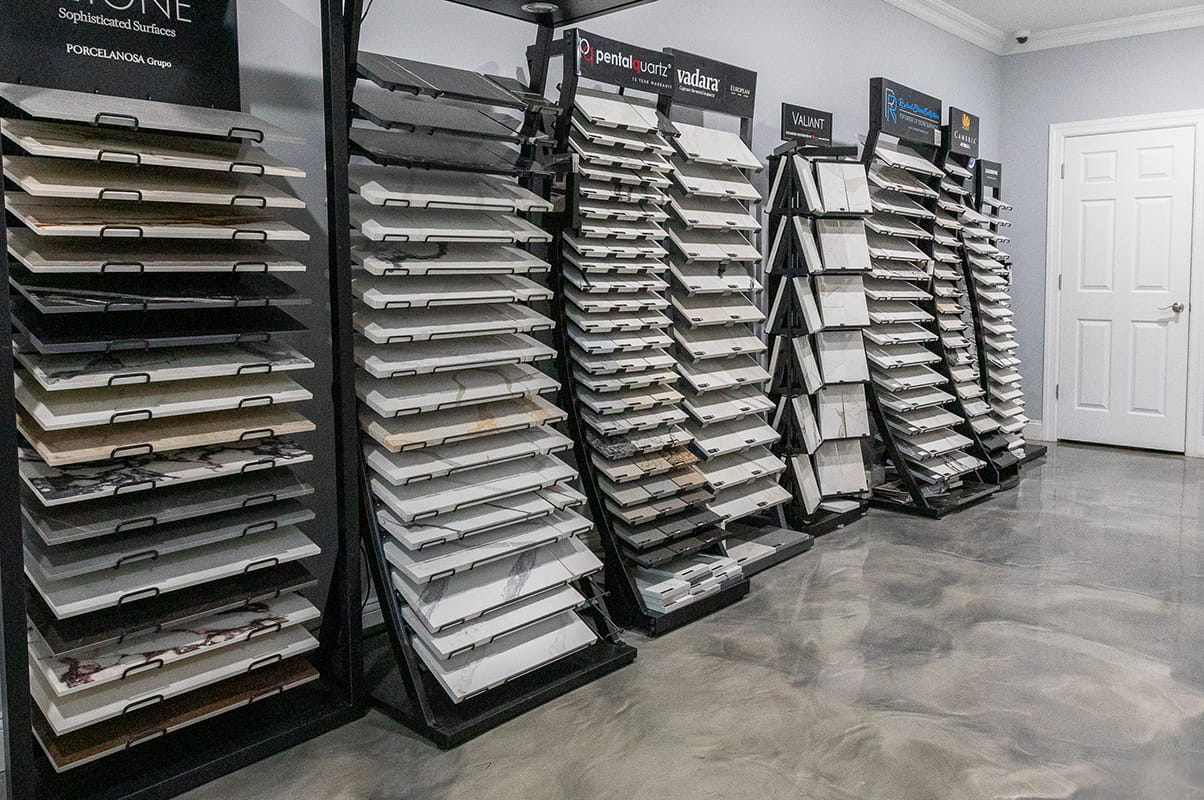 One-stop Countertop Store
With a wide selection of top-quality stone slabs and brands, expert guidance, a large fabrication facility, and a clean, organized showroom open to the public, we are your one-stop shop for all your countertop needs. Whether your project requires kitchen countertops, bathroom vanity counters, a stone fireplace surround, an outdoor kitchen countertop, a stone TV wall, and more, our experienced stone cutters and countertop manufacturers have you covered.
Get Inspired!
Let us show you the Artistic Stone difference today! So why wait? Visit us at our showroom and fabrication facility to discuss your next countertop project. Get inspired and get started with Artistic Stone. We can't wait to work with you!
Artistic Stone Services
Welcome to Artistic Stone, the premier stone installer and fabricator serving homeowners in NJ. Our expert staff of stone cutters, countertop manufacturers, and installers are committed to providing top-notch customer service for all your stone needs. With our extensive knowledge and dedication to quality, we guarantee that you will be satisfied with our services. Our team is here to guide you in choosing the perfect natural stone, engineered stone, or porcelain for your lifestyle and budget. We pride ourselves on our precise measurement and templating techniques, ensuring a flawless fit for your space. Our fabrication and installation processes are carried out by skilled professionals who have over 15 years experience working with stone and who pay close attention to detail to create custom countertops that exceed your expectations. Consultation and Material Selection
Our experienced staff has a deep understanding of the unique qualities of different stones and can help you select the best option for your project, whether it be granite, marble, porcelain, quartz, or quartzite. Our expertise allows us to help you select beautiful natural stone and other high-quality countertop materials and countertop edge profiles for your home.
Measurement and Templates
At Artistic Stone, our skilled stone cutters and fabricators are dedicated to providing using their expertise and experience to accurately measure and template your space, guaranteeing a precise fit for your countertop. We only use top-of-the-line equipment to ensure that the final product is of the highest quality. With our attention to detail and commitment to perfection, you can trust us to deliver excellent results every time.
Fabrication
At Artistic Stone, we take great pride in our exceptional customer service, unmatched stone-cutting expertise, and top-of-the-line countertop fabrication services. Our team of skilled fabricators is dedicated to creating stunning kitchen countertops, backsplashes, bathroom vanity tops, outdoor kitchen counters, fireplace surrounds, jacuzzi and shower walls, as well as stone TV walls. When it comes to finding the best stone cutters, countertop manufacturers, and installers in NJ, look no further than Artistic Stone!
Installation
At Artistic Stone, we pride ourselves on providing quick and accurate countertop installation services. Our team of skilled stone cutters and countertop manufacturers are known for their exceptional customer service, ensuring that each project is completed with the utmost care and attention to detail.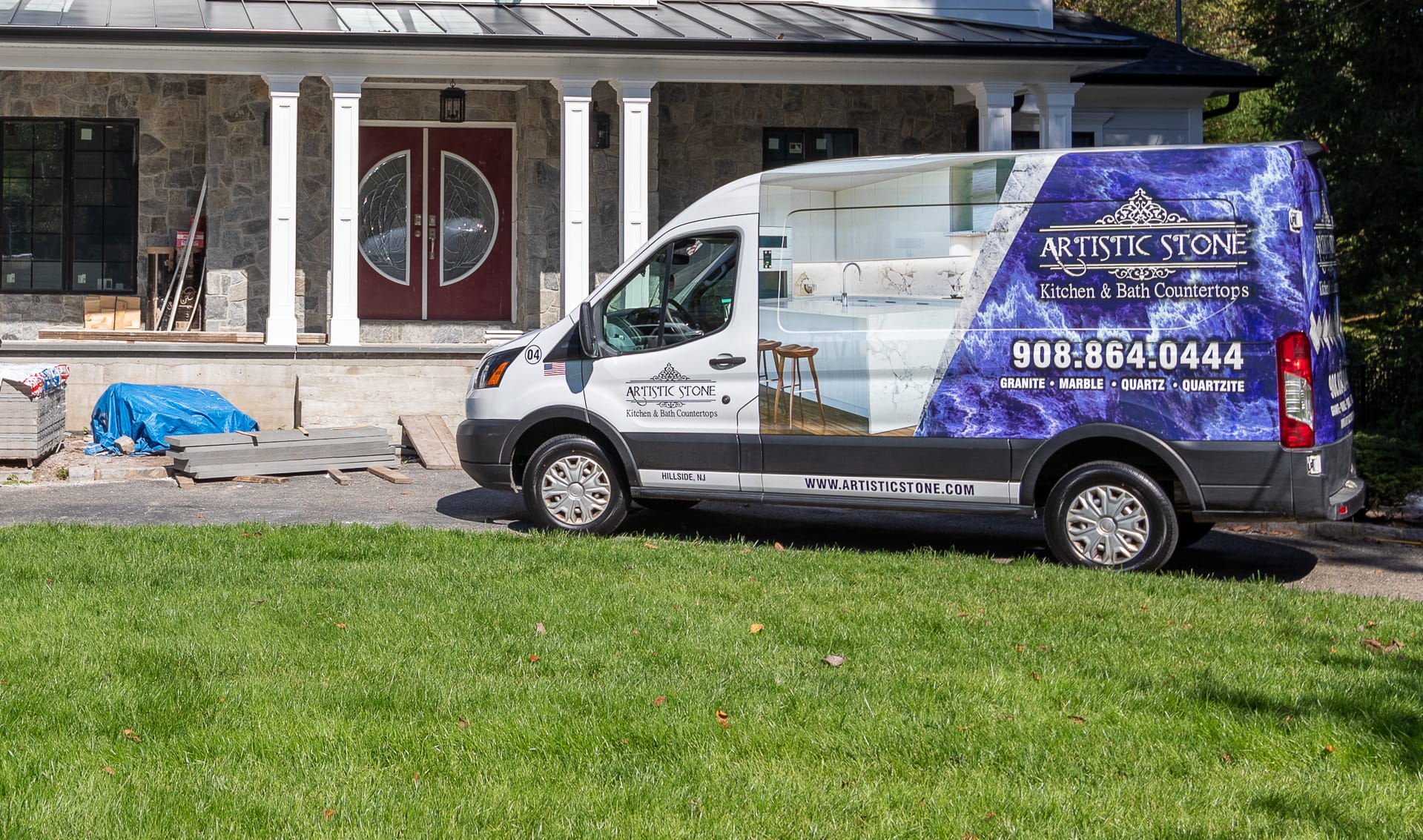 Artistic Stone: Choice, Craftsmanship & Commitment
Transforming Stone into Statement: What Story Will Yours Tell?
At Artistic Stone, every countertop, fireplace, shower wall, and backsplash we curate is more than a surface; it's a statement, a conversation.
Whether you envision a luxurious kitchen island or a statement fireplace, our expansive selection and meticulous craftsmanship ensure your vision comes to life flawlessly. Venture into our showroom to witness firsthand the blend of elegance and expertise we bring to every project. Your dream space deserves nothing less than the Artistic Stone touch.
Contact Artistic Stone Today!