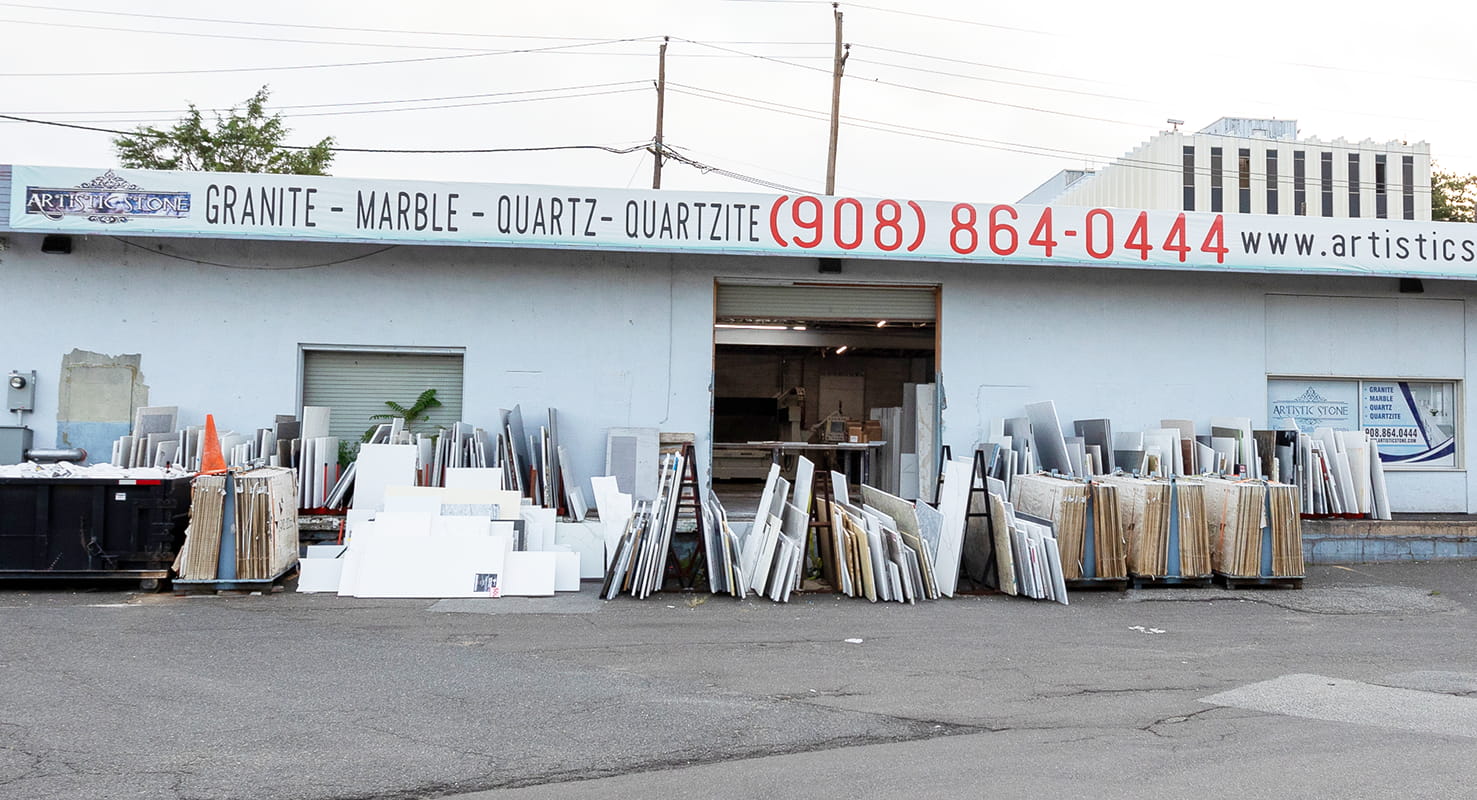 New Jersey's Stone Countertop Showroom
See What A Difference Our Stone Countertops Make
Are you looking to enhance the appearance of your kitchen, bathroom, or other living space? Look no further than Artistic Stone! Located in Hillside, New Jersey, Our clean, organized showroom and fabrication facility showcase a variety of stone options from some of the most reputable brands in the industry. Our company has established a strong reputation for providing top-notch custom stone solutions and consultative customer service that sets us apart from the rest.
Visit Our Showroom & Fabrication Facility
Our showroom in Hillside, New Jersey, is a favorite among homeowners for its pristine and inviting atmosphere. Here, you can browse through a wide range of stone brands such as MSI, Caesarstone, Silestone, Bandera, Raphael Stone, Indo American Quartz, Reliance Quartz, Gran Trade, and Cambria to find the perfect stone type for their home.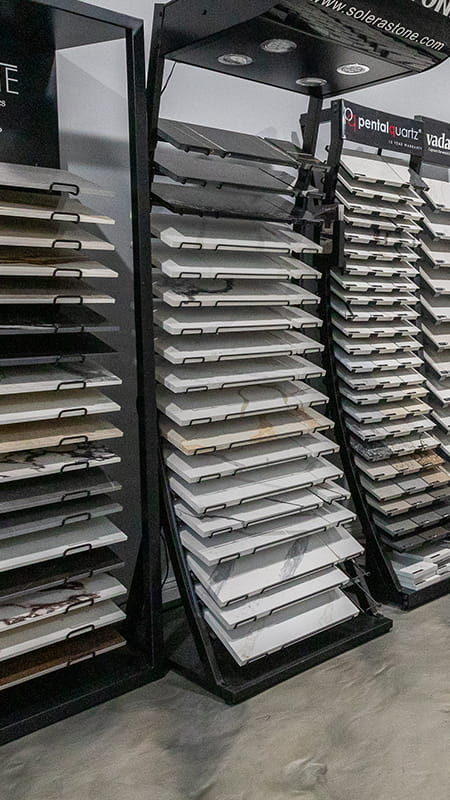 Wide Selection
Visit our showroom to browse our extensive selection of granite, marble, porcelain, quartzite, quartz and soapstone samples. For your convenience, we also offer stainless steel sinks and various floor and backsplash tiles to complete your dream design. Transform your space with Artistic Stone's premium quality stones, carefully sourced from top suppliers, to ensure the highest level of durability and beauty. With our vast range of options, you can find the perfect stone for any style or budget:
Granite
Marble
Soapstone
Quartz
Quartz
Porcelain
Stainless Steel Sinks
Floor and Backsplash Tile
Countertop Edging, including these popular options:
Eased Edge
Quarter Round Edge
Quarter Bevel Edge
Ogee Edge
Double Ogee Edge
Miter Cut Edge
Expert Guidance, Every Step of the Process
Our countertop showroom is perfect for viewing stone color samples and countertop edge styles to help bring your vision to life. Our expert staff are always available to guide and assist you in choosing the perfect stone for your project.
Let us be your partner in creating the luxurious and functional spaces you've always dreamed of!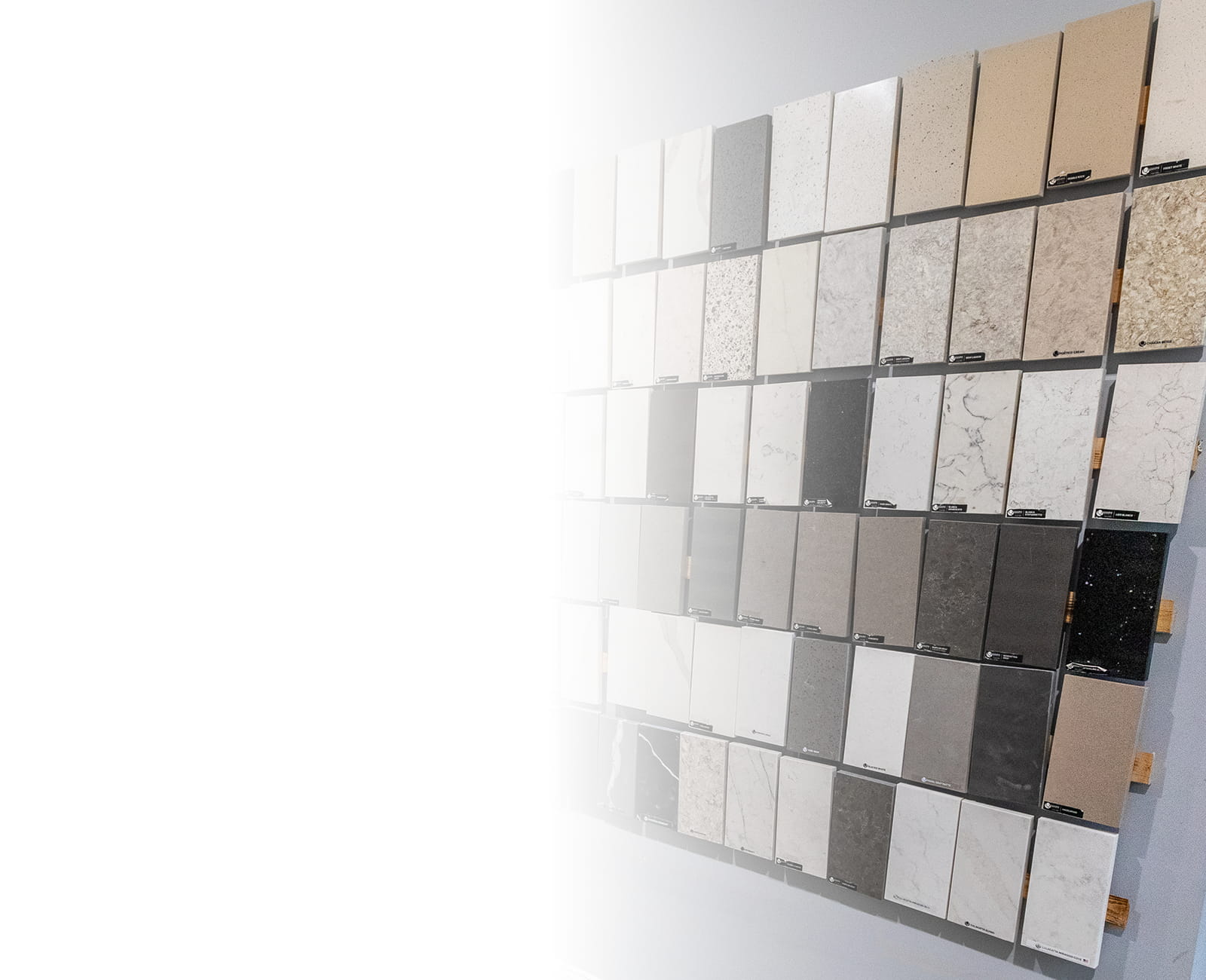 Why Visit Artistic Stone's New Jersey Showroom?
Consultative Customer Service
At Artistic Stone, our experienced sales team prioritizes consultative customer service to help clients find the perfect stone for their lifestyle and specific needs. We pride ourselves on prompt responses to calls, emails, and inquiries, and we are always eager to educate homeowners on the unique qualities of each countertop material.
Professional Installers
At Artistic Stone, our team of expert installers is dedicated to providing you with a flawless installation experience. We're careful to keep your space clean and organized throughout the process. We pay close attention to every detail to guarantee that you have a stunning and functional countertop for many years to come.
Product Showroom
Our showroom in Hillside, New Jersey, boasts a pristine and well-organized space in which you can discover your perfect countertop solution. With a variety of granite, marble, quartzite, quartz, porcelain and soapstone samples on display, along with sleek stainless steel sinks and stylish floor and backsplash tiles, you're sure to find the ideal combination for your home.
Large Selection
Whether you prefer contemporary or classic styles, you'll find the perfect countertop material for your home from within our large selection of countertop materials, including over 500 colors from popular brands like Bandera, MSI, CaesarStone, Rapael Stone, Silestone, Cambria, Indo American Quartz, Gran Trade, and more.
Knowledgeable and Experienced
The Artistic Stone team leverages over 15 years of hands-on experience with countertop materials to provide you with valuable insight into which stones are best suited to your intended use.
Competitive Pricing
At Artistic Stone, we're proud to provide high-quality countertop products and services at competitive prices. You will receive the best value for your money when you shop with us.