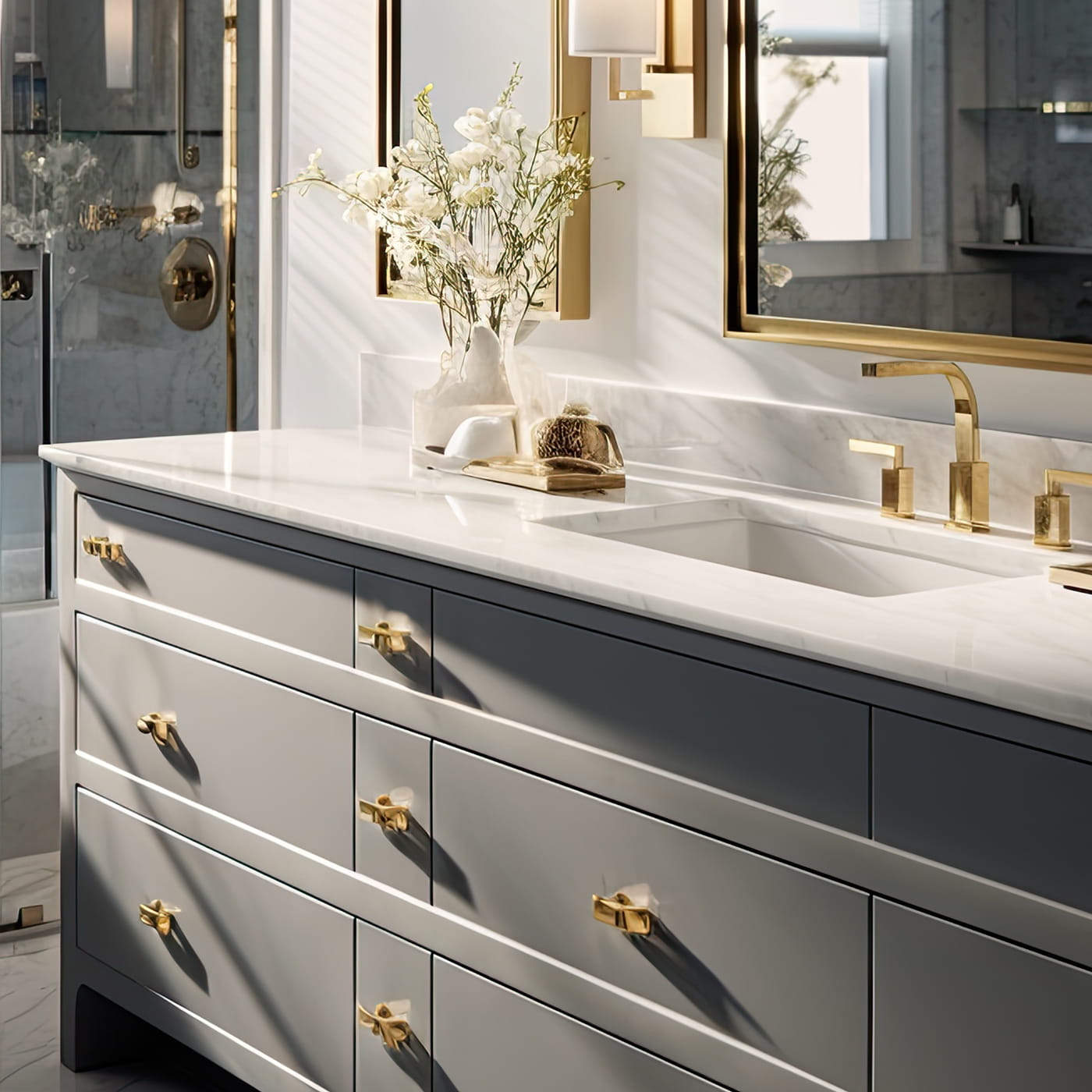 Ridgewood's Countertop Contractors
People who own homes in Ridgewood, NJ, turn to Artistic Stone to enhance the beauty of their homes with attractive, top-quality countertops and other custom stone features. Our professional team provides exceptional customer service, earning us an excellent reputation in Ridgewood. Our clients appreciate that we provide expert guidance while creating their perfect stone solutions. Ridgewood homeowners living in neighborhoods like Willard, The Heights, Ridge, Orchard, Travel, Somerville, Hawes, and throughout Ridgewood recommend Artistic Stone to friends looking for a skilled, precise countertop fabricator and installer. We offer a large selection of natural and engineered stone slabs from trusted brands like Bandera, MSI, Cambria, MSI, Reliance Quartz, SIlestone, Caesarstone, Raphael Stone, Indo American Quartz, and Gran Trade. You will find the ideal project material from our large selection.
Showroom: Granite, Marble, Quartz and More
Ridgewood residents love our modern, conveniently located showroom in Hillside, where they can evaluate different types of countertop stone and view color samples. Visit our showroom and fabrication facility today and see why your friends trust Artistic Stone for all of their countertop needs, from consultation to flawless installation. We can turn your dreams of unique and beautiful jacuzzi surrounds, fireplace surrounds, outdoor kitchen counters, jacuzzi surrounds, indoor kitchen countertops, bar countertops, stone TV walls, shower walls, or other home improvements a reality.
At Artistic Stone, every countertop is a conversation. So why wait? Start the conversation, and let us help you transform your home today! Endless possibilities await at Artistic Stone.
Ridgewood Countertop Store
Ridgewood residents know Artistic Stone to be a top countertop fabricator and installer. Ridgewood families whose children attend schools like Ridgewood High School, Montclair Kimberley Academy, Orchard School, Ridge Elementary School, Willard Elementary School, Travel Elementary School, Somerville Elementary School, Holmstead School, Glen School, Hawes Elementary School, Benjamin Franklin Middle School, George Washington Middle School, Ridgewood Montessori, Little Crane Montessori School, Cooperative Nursery School of Ridgewood, Bergen County High School, West Side Nursery School, First Presbyterian Church School, Sara's Preschool appreciate that we provide consultative customer service that sets us apart from other countertop companies.
People who own homes in Ridgewood enjoy visiting our clean, organized showroom and fabrication facility, where they can see our wide selection of premium quality stones. Our knowledgeable staff are on hand to help you choose the perfect stone for your project. Whether you dream of a modern fireplace or sleek jacuzzi surround, a stunning TV wall, beautiful bathroom vanity countertops, modern kitchen counters and backsplashes, or another type of custom stone solution, Artistic Stone can transform your home near The Valley Hospital, West Side Presbyterian Church, Living Hope Churge, Lakeview Drive, Mountain Avenue, Cantrell Road, West End Avenue, Lincoln Avenue, Gardner Road, Highland Avenue, Bellair Road, Richmond Avenue, Doremus Avenue, Ridgewood Racquet Club, Doremus Avenue, Washington Place, West Ridgewood Avenue, North Monroe Street, South Pleasant Avenue, Grove Street, Franklin Turnpike, Van Dien Avenue, Saddle River Road, Glen Avenue, North Maple Avenue, HoHoKus Brook, Temple Israel, Saddle River County Park, Ridgewood Dog Park, or Twinney Pond Park with top-notch craftsmanship. Visit our showroom today to see why Ridgewood homeowners depend on Artistic Stone to enhance the appearance of their homes with durable, modern countertops.
We look forward to becoming your trusted partner in creating your dreams' luxurious and functional spaces. Choose Artistic Stone - where quality and customer service come first! Artistic Stone Services
At Artistic Stone, we specialize in providing top-quality stone installation and custom fabrication services that provide homeowners with beautiful enhancements to their living spaces. With over 15 years of experience, our team is highly knowledgeable about different types of natural and engineered stone, including granite, porcelain, quartz, soapstone, marble, and quartzite. From measurement and templating to fabrication and installation, our skilled team ensures a flawless end result for your home renovation needs.
Let us help you select the ideal stone and countertop edge that reflects your style and lifestyle. We'll answer your questions and provide you with stone and counter edge samples, ensuring a seamless and satisfying selection process.
At Artistic Stone, our skilled and meticulous stone craftsmen use advanced technology to create precise countertop templates for your space and deliver exceptional results every time.
At Artistic Stone, we offer superior stone fabrication and installation services for homeowners in NJ. We produce stunning countertops, backsplashes, fireplace surrounds, and more with our stunning craftsmanship.
Artistic Stone's highly skilled countertop installers excel at installing natural, engineered, and porcelain countertops to perfection. Our quick and precise installation for stunning and functional results.
Stone Warehouse & More!
Discover your ideal stone countertop by browsing our large selection of granite, marble, quartz, quartzite, soapstone, and more, along with stainless steel sinks and tile options. Sourced from the world's top suppliers, our stone will fit any style and budget. Explore our selection virtually (below) or visit our Union County showroom conveniently located near Ridgewood and experience the quality firsthand and make a statement in your space. The Artistic Stone Process: 5 Easy Steps
1. Stone Selection:
Our experienced staff will help you select the stone most appropriate for your preferences and needs. You can choose your stone slab in person at our showroom or from one of our suppliers, or remotely, from photos we send you.
2. Cost Estimate:
We can provide you with an on-the-spot estimate from your rough measurements, a room layout, and photos of the space in which you need countertops installed and a room layout.
3. Measurement and Templating:
After you submit a deposit, one of our expert fabricators will come to your home to measure your space and create a project template.
4. Countertop Manufacturing:
Fabrication takes four to six business days.
5. Installation:
On a day convenient for you we'll install your countertops. It's essential for you to have a plumber disconnect all plumbing related to the job before your installation appointment and reconnect it afterward.
All that's left to do is enjoy your new countertop!
Why is Artistic Stone is Ridgewood Preferred Countertop Company?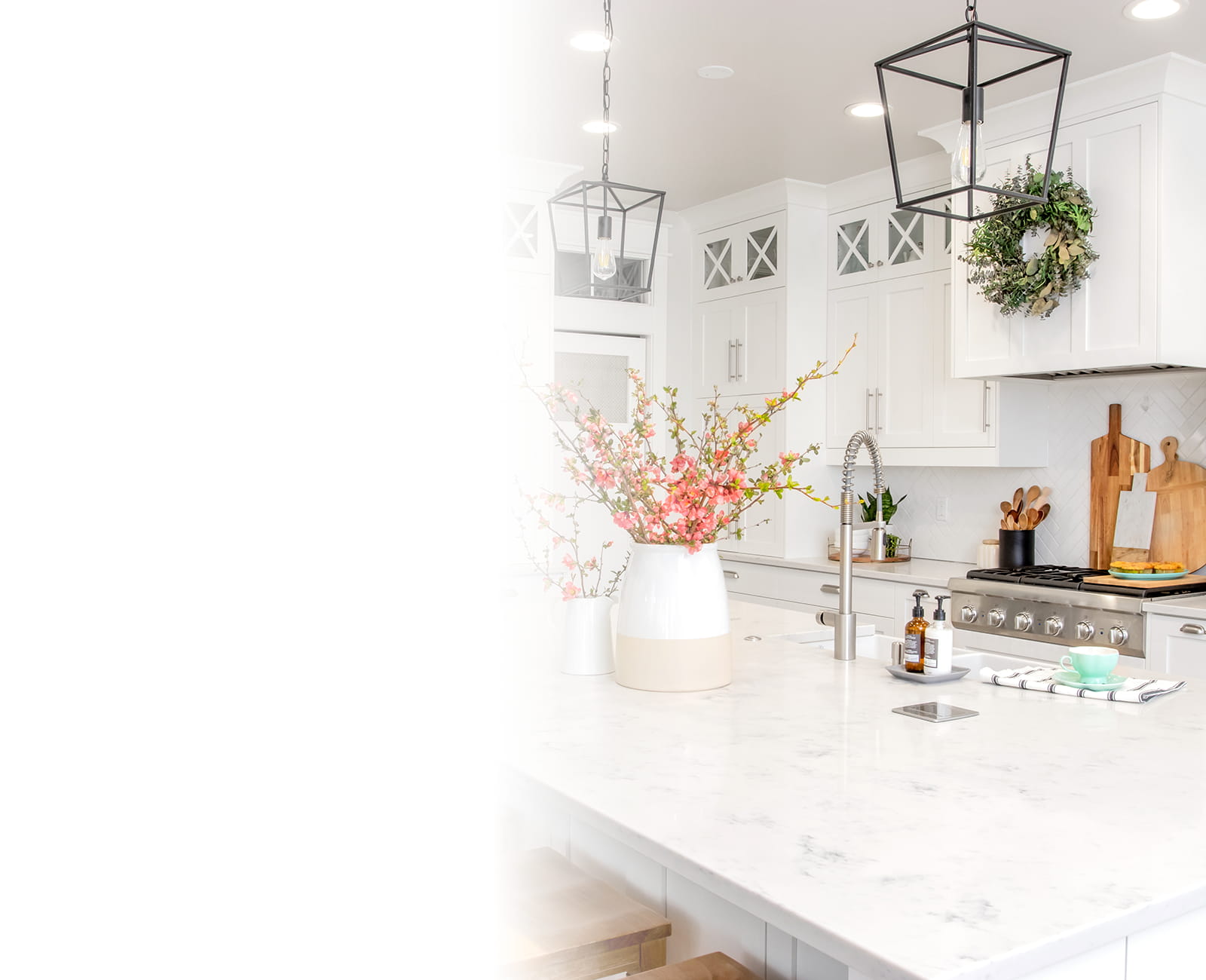 Consultative Customer Service
Our customers love that we answer their questions and educate them about the nuances of each countertop material so they can chose the perfect stone for their project.
Professional Installers
Our installers are adept at precise and neat installation, which ensures you'll enjoy your functional and beautiful countertops for years.
Product Showroom
Our popular stone showroom is the perfect place to explore a wide range of granite, marble, quartz, quartzite, soapstone and porcelain as well as stainless steel sinks and floor and backsplash tile.
Large Selection
Our large selection of stone includes over 500 colors from popular brands like MSI, CaesarStone, Silestone, Bandera, Raphael Stone, Gran Trade, Cambria, Indo American Quartz, and more.
Knowledgeable and Experienced
We leverage over 15 years of hands-on experience to help you choose the perfect stone based on the requirements of your project.
Competitive Pricing
Our competitively priced countertop products and services ensure you get quality products at a fair price. Over 300 5-Star Reviews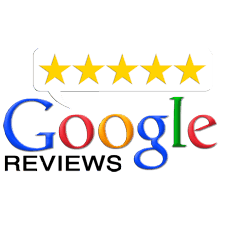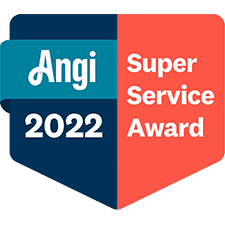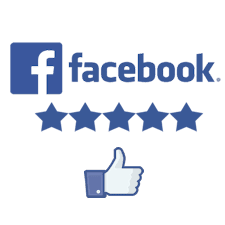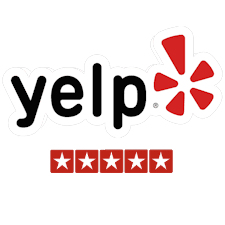 Read What Your Fellow Ridgewood Neighbors Have to Say About Stone Services Artistic stone receives consistently positive reviews from its Ridgewood, New Jersey clients:
Artistic Stone is outstanding

I usually don't write reviews, but this company surpassed all expectations. From customer service and professionalism to quality service and craftsmanship on installation.

S.D. Ridgewood, NJ, Homeowner, 07450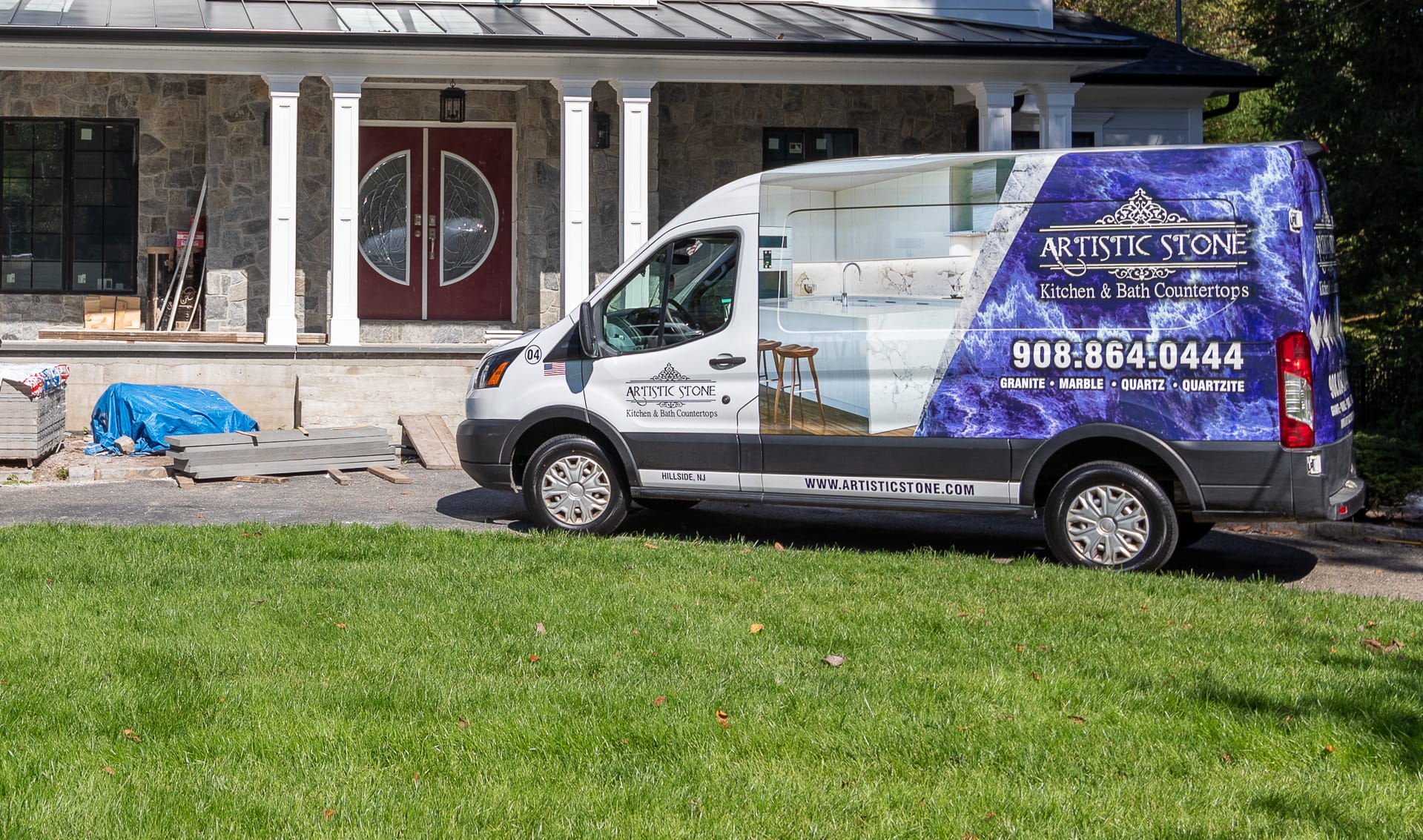 Artistic Stone: Choice, Craftsmanship & Commitment
Transforming Stone into Statement: What Story Will Yours Tell?
At Artistic Stone, every countertop, fireplace, shower wall, and backsplash we curate is more than a surface; it's a statement, a conversation.
Whether you envision a luxurious kitchen island or a statement fireplace, our expansive selection and meticulous craftsmanship ensure your vision comes to life flawlessly. Venture into our showroom to witness firsthand the blend of elegance and expertise we bring to every project. Your dream space deserves nothing less than the Artistic Stone touch.
Contact Artistic Stone Today!